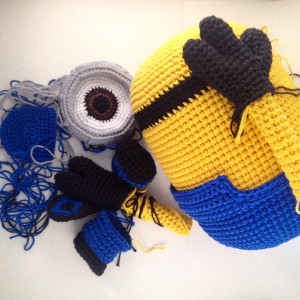 I've put together a photo DIY on how to do some of the parts from the pattern for Stuart, as I have received some questions on a few tricky bits. There will be more guides, Stuarts goggles seem to be another tricky part. But first: A tutorial on how to fasten the shoe to the leg.
**UPDATE** The DIY for Stuarts goggles is now ready and running! Make sure to read the free pattern alongside, as the photo DIY is only indicative to show some (most) of the tricky parts.
**UPDATE 18/12-15** The last planned DIY on how to do Stuarts hands is now available, showing the overall key points to support the written FREE pattern. Have fun! As always, I would LOVE to see the minions you make, using this pattern. I have an idea about a whole page covered with photos of all your minions, so please do share!
Happy hooking!
Share: