Some time ago for my birthday, my boyfriend bought me this 4 kilo tiny little ball in a beautiful forest green color. I have been taking it out once in a while, but none of my ideas were quite right and everything was frogged. Now was the time, and a danish saying goes: "All good come to those who wait", everything was straight forward and completely right! If you want to try making one for yourself, yarn is Mammoth from WoollyMahoosive and it comes in one giant continuous ball! Tip: Mammoth comes in 1 kg balls, the larger 4 kilo (for the price of 3 kg) ball or as a bale of 10 kg! There are many basic colors to choose from – know that it's acrylic, not wool – and I recommend buying a jumbo hook to go with the order, fingers are very sore after making a whole throw.. My largest hook is 25 mm and that was not big enough for the fluffy throw I had envisioned, so I used my fingers. It took a couple of runs before I got the techniques right to make an even stitching and finding a rhytm. It is so much fun and I love the result!! It's reversible and both sides have  beautiful texture – which one do you like better?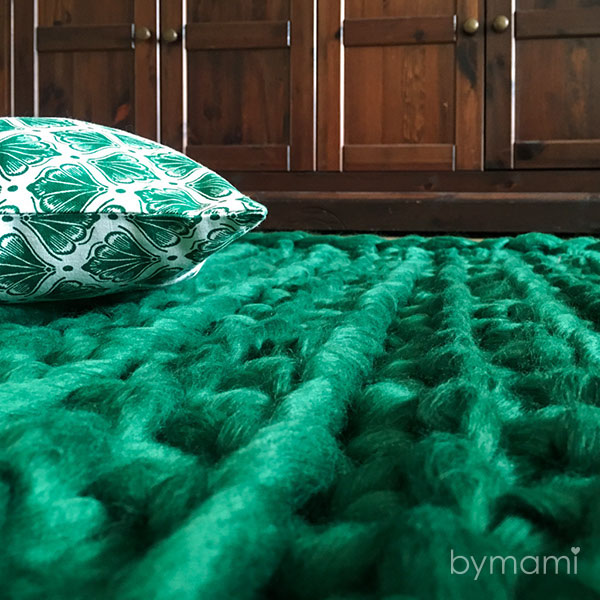 MAMMMOTH THROW
The Mammoth Throw is an easy make with a lovely texture to both sides. Use it to sit comfortably on the floor, in your favourite armchair or as a (heavy) lap throw. Make sure you sit comfortably with space in front of you when finger crocheting, as the throw gets big and heavy very fast. Use your legs to support the weight of it.
YOU WILL NEED
4 kg Mammoth yarn from WoollyMahoosive (or similar giant yarn)
Your hands or a jumbo hook size 40-50mm (my 3 fingers equal a 45 mm hook)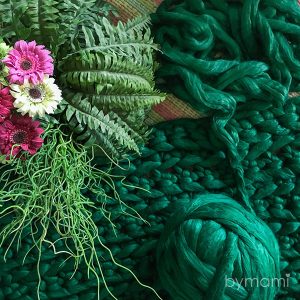 BEFORE YOU BEGIN
Roll a decent amount off the ball. It is important not to yank the yarn, as it will break. To prevent too much elasticity (the blanket gets very heavy) it's made solely of single crochet stitches. To achieve a beautiful texture to both sides, alternate between two rows, one row in front loop only, next row in back loop only, last stitch of every row through both loops. All rows turn with a chain 1. Measurements are approx. 90x110cm with about 1 mtr of leftover yarn when done. I recommend using at least a 50mm hook, as tension could have been fairly more loose than mine. TIP: If you knit instead of crochet, you will get a bigger throw as the yardage extends (I will have a go at it the next time i make a giant yarn throw). When crocheting with giant yarn that consists solely from combed fibers, it is important to keep the working yarn strand on top in every stitch at all times. That way you can easily adjust stitches without tearing the yarn. It also makes it easier to frog without tangling and damaging the yarn.
HOW ITS MADE
You can find a video and a phototutorial on how to finger crochet right here.
Chain 20+1.
Single crochet 20 stitches along the chain.
Turn and crochet 20 sc in front loop only, last stitch through both loops.
Turn and crochet 20 sc in back loop only, last stitch through both loops.
Repeat the two rows until you have used up the entire ball of yarn or stop (after a row of back loop sc) when you have a enough leftover yarn to finish the throw with a firm edge of slip stitches (don't turn the blanket. but continue down the side).
That's it, throw is done! Mine has the perfect spot in an old armchair I found – someone had tossed it and I took it home with me. I have spent hours and hours reading books in that chair, with my feet on the small stool found at a thrift store. That was before I took up crochet..!! It's needed a makeover for a while and now that it has a new look with the Mammoth Throw and matching pillow, I might even use this cozy corner of the living room!! It's pure hygge, don't you think?
Giant yarn
Giant yarn consists of combed fibres of wool or acrylic. It's called a top and the fibres are carded into long strips that generally go into the same direction. True tops are made by hand and are more dense than machine-made roving with all fibres going into the same direction.
Websites for inspiration:
Share: