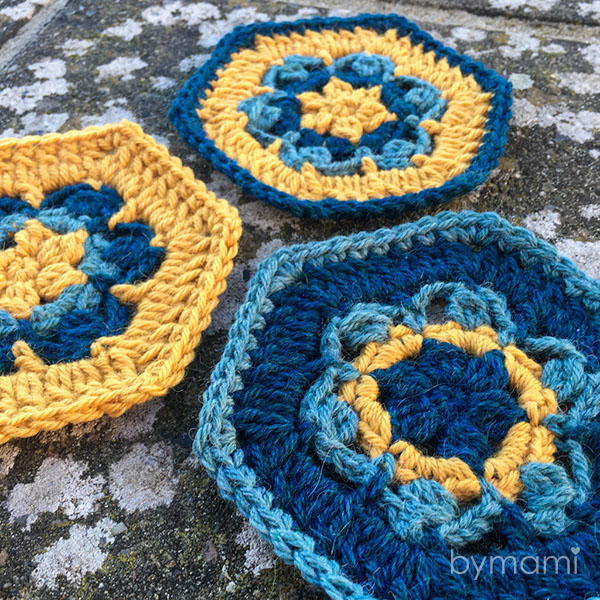 Bymami has been awfully quiet these past months. Life happened and has been taking up most of my time and energy. My love for yarn was still there, but there simply was no leftover energy to keep up yarning much. A new year is a new beginning and by taking a break and catching my breath, mending and attending what is important (besides yarn) I am ready to pick up where I left. I have been thinking a lot about what I want from my fibrous hobby and where the crocheting path will take me in 2018. I don't do resolutions much, yet I have a few things that are important to me for the year coming, things and ways I will try to live by: Try and stay true to myself by making only things my heart calls for and be content with my work. I am my own worst critic and I have to turn that back down. Self-criticism is only good to the point where it does not hinder you and your creations. My crochet does not have to live up to anything or anyone! Spending time with yarn and hook is my joy and medicin through a sometimes heavily burdoned everyday life and agonizing pain – and it shall continue to be joyful and therapeutic!
Back to this years project: Back in 2016 I launched my project of #52weeksofmandalas, 2018 will be the year of one hexie every week, which makes #52weeksofhexies. Yay! The plan is to crochet/design a new hexie each week and crochet them all together in the end. The blanket will be named 'Valkyrie' and each hexie will be named after Norse Mythology's Valkyries, Norns and Godesses. I am not sure whether I will use only one type/brand of yarn or several types/brands, we'll just have to see where the heart takes me  I won't guarantee that there will be written patterns for all hexies, but I shall try my best! To all of you out there following my little yarny corner of the universe: Thank you for all your sweet comments, likes and shares this past year. I wish you all a happy, creative and inspiring New Year!
Important to know about the hexies: Some hexagons end with a stitch count of 60, while others end with 66 stitches. The uneven number of stitches will be aligned when the blanket is assembled in the end. Because of time pressure, the patterns have not been tested, so if you discover any mistakes, please let me know so I can fix it! See all the finished hexies here.
Hexie #1 Brynja
Crocheted in Drops Lima in colors Goldenrod (2923), Seagreen (9018) and Petrol (0701), One Brynja hexie made in three colours uses app.10g of yarn.
YOU WILL NEED
Drops Lima
A 5 mm crochet hook
A darning needle for fastening ends
ABBREVIATIONS
st / stitch
ch / chain
sc / single crochet
hdc / half double crochet
dc / double crochet
tog / together
HOW ITS DONE
The pattern states where to begin each round, not how to begin it. All rounds are closed invisibly or using a slip stitch to the 1st stItch. The 1st stitch is replaced by ch1=1sc, ch2=1dc etc.
In a magic ring, crochet 6 sc (6)
*dc3tog, ch3* 6x total (24)
In each chain, crochet 5 sc (30)
Begin in space between 2 sc, directly above a dc3tog: *1 sc, ch 4, dc3tog (into the 3rd sc from previous rnd), ch 4* repeat 5x more (6 sc, 6 dc3tog, 12 ch4)
Begin in a dc3 tog: *1 sc, ch3, 1 hdc (into sc from last rnd), ch 3*, repeat 5x more (48)
Beg in a sc: *[dc2tog, ch2, dc2tog] (corner made), dc2tog in ch3chain 2x, dc2tog (in hdc), dc2tog in ch 2x*, repeat 5x more (54)
1 sc in each st, in the corner ch put [1 sc, ch1, 1 sc] (60)
Happy Hooking!
Let me see your Bymami makes
I absolutely LOVE to see the things created from my patterns, it makes me very, very happy knowing that the patterns I spend a lot of time writing are being used!
Post photos of your Bymami makes from this pattern in a comment below, share it on
Bymamis facebook
or in your Instagram feed and tag it
#brynjahexie, #valkyrieblanket
and
#52weeksofhexies
. Make sure you tag
@bymamidk
on the photo or in your caption too if you want to make sure I see it!
Share: